ˈʊmˌvɛltn̩
Virtual Reality Interactive Design for Immersive Experience. Berlin, 2019-2020.
Research and Development in collaboration with Mark Barden - the Konzerthausorchester Berlin -, and the HTW - Hochschule für Technik und Wirtschaft Berlin. Awarded and commissioned by the Konzerthaus Berlin.
Official Website
Julian Bonequi: Interaction Design / 3D Art (Modeling, Design and Animation) / VR Integration and Development
Inspired by Timothy Morton's concept of Dark Ecology and Ernst Haeckel's Kunstformen der Natur, ˈʊmˌvɛltn̩ (Umwelten) is a virtual reality interactive composition and interface commissioned by Konzerthaus Berlin. Designed for the Oculus Quest, ˈʊmˌvɛltn̩ can be performed in a full-scale version spanning 400 square meters or scaled down for smaller spaces. ˈʊmˌvɛltn̩ is inhabited by more than 200 aural-haptic 3D organisms, nearly 100 different interactions, and 792 precomposed sound files.
Each user functions simultaneously as composer, performer, and contemplative deep listener. In this way, ˈʊmˌvɛltn̩ is both a VR/3D sampler for individual use as well as a live performative instrument for contemporary XR concerts controlled by the performer's body. One of the concepts driving our interaction design was an attempt to understand what solidarity with non-human people, as outlined by Morton, might mean.
In ˈʊmˌvɛltn̩, each user explores a highly dynamic and "personalizable" experiential space with a musical palette ranging from calm solace to fulminating chaos. Hand controllers and head position define and control 3D spatial sound interactions, with VR collisions triggering exponential databases, resulting in an embodied sensory terrain of aural, visual, and haptic phenomena.
ˈʊmˌvɛltn̩ pushes the technical limits of the Oculus Quest through its intricate interactive possibilities and sheer volume of potential sounds. With a team of programmers at the Hochschule für Technik und Wirtschaft Berlin, we optimized these interactions while maximizing performer agency and freedom of movement. The result is a complex full-body experience. Many hours of experience and rehearsals are required to unlock ˈʊmˌvɛltn̩'s full potential and discover all its hidden sounds. ˈʊmˌvɛltn̩ combines a dizzying array of sonic and haptic relationships with full user agency to curate* unique and more expressive VR performances.
Official Teaser:

Interaction Demo:

3D quotes - Modeling Nonhuman Musical Communication - inspired in the drawings of the naturalist philosopher Ernst Haeckel (1834–1919).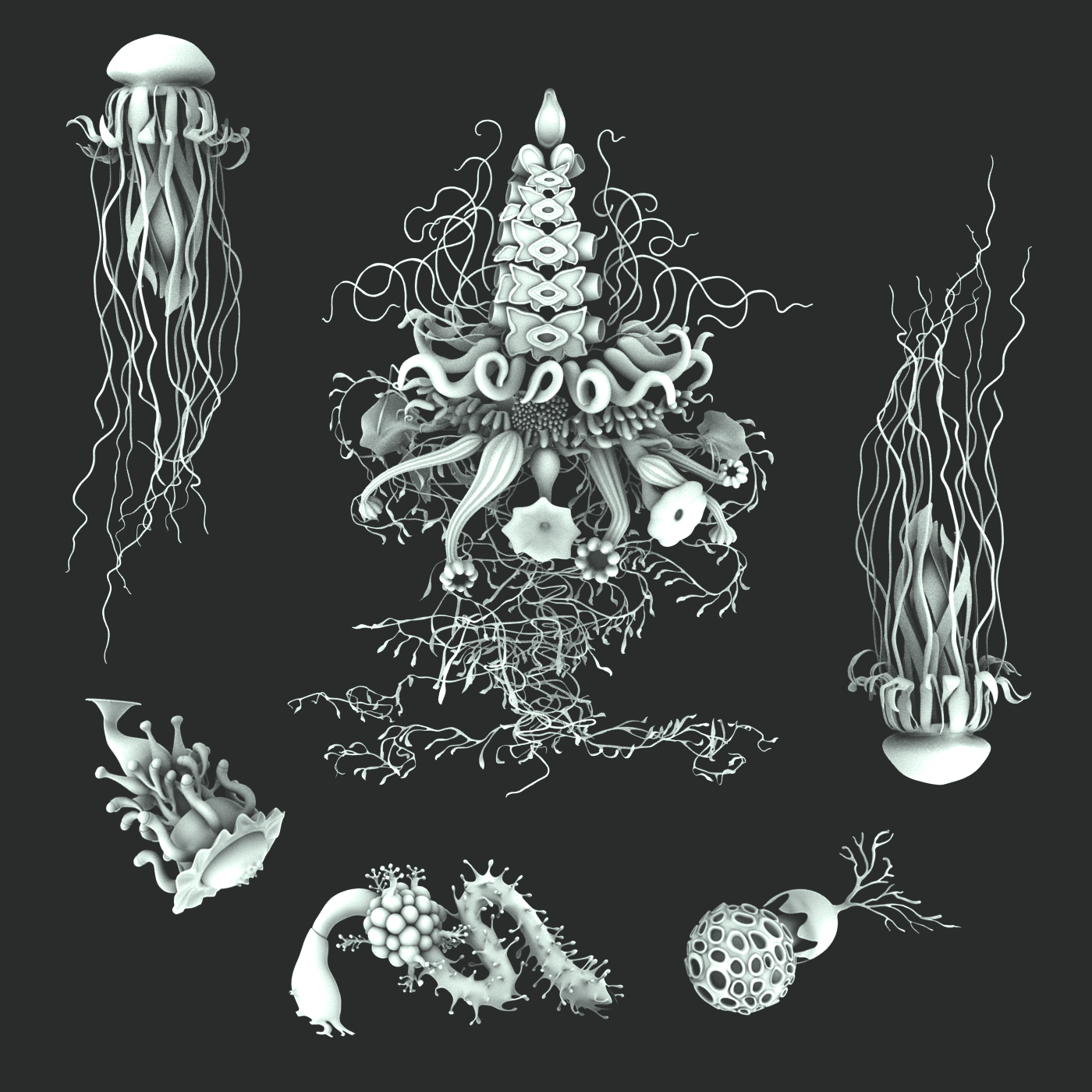 'Sneak Listening' of the 3 Days Recording with the Orchestra ->